I remember starting this blog with the intention to write more about my tarot practices and how I relate them to my work. I remember referring myself as activist previously, and I have decided to strip the title off myself, recently. I no longer want to be called activists because the reflection of being 'active' and wanting to stay on top of my work most of the time. While I learned more and more about my Bipolar Disorder symptoms, a lot of things revealed themselves for me. Most importantly, about taking care and being mindful about my own mental health.
I love isolation. It reflects my birth tarot card, The Hermit. In companion of The Moon, I am pretty sure the label 'introvert' fits me perfectly. I spend most of my time being alone with myself, enjoying my own company and somehow it became a forced routine due to the global outbreak of Coronavirus. I can no longer enjoy being alone outdoor, and it gives me lack of room to move around.
I worked with my tarot deck to actually read myself to filth: to understand that I need to be put down and away from my work.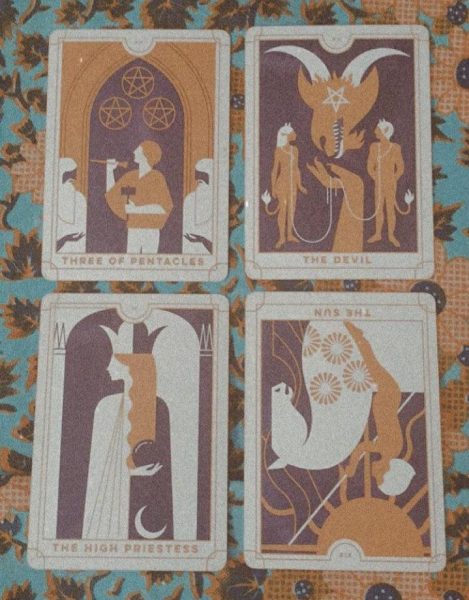 What is at the heart of my stress?
Three of Pentacles: The card reflected a person working with hammer and nail through a door and there is two person watching them from the two sides of the door. Three circles of pentacles on top of their head. 
As I striped off myself from accessing activist spaces and the kind of people I used to be with, I have learned to pick my battle wisely. I have tried to warm people about abusive people in the space, yet, the warnings are not taken seriously. Maybe I have given up on warning people, because it's exhausting to tell these traumatic stories over and over again, who knows?
How can I better manage this stress?
The Devil: The card reflected to person tied by a thread, held by one hand. In the middle, a goat-like head with a  pentacles with its sharp teeth and long-tongue.
With Mars, Jupiter and Pluto in Capricorn currently, and the Devil card appeared, I am assured that there is a lot of things are being taken away and blessed to me at the same time.
"Mars in Capricorn needs great mountains to climb in life. You come alive when there's resistance, and show enormous strength in pursuit of your goals. You are self-controlled and don't take orders well from others. You step into leadership early in life and carry an air of authority." This amazing analysis by Molly Hall can be read here.
While Jupiter in Capricorn transits starting last year has been kicking it for me: "Unlike the huge leaps forward we took during Jupiter in Sagittarius, Jupiter in Capricorn is a time of moving at a more measured pace." Read more here. Being hit with reality, the conservatives of Capricorn is gave me enough ground to stand on, rather than being dreamy and ambitious all the time.
Pluto has been transiting in Capricorn since 2008, and will only leave in January 2024. Whew, what a long stay! "When Pluto makes his way into Capricorn, he will be transforming many of the areas of life Capricorn deals with. One of the most important issues that will be dealt with during Pluto's journey through the sign of Capricorn, the winter sign, will be the subject of aging. Material resources, money, the way we deal with power, our desire for status, and our response to security issues will also be paramount in our conscious and unconscious thoughts." Read more.
This was long, critical analysis that I gave myself time to churn in, and finally accept the truth. There's no point lying to yourself.
Where can I better direct my energy?
The High Priestess: A person holding their crystall ball with half light half dark veil, a moon is on them thigh, and two tower stands next to them. 
The High Priestess is associated with the sign Virgo. Articulateness, calculative, getting organized. I am surprised finding myself entangled in Excel Sheets and planners once more, as I navigate back into my work and that's – what I've been missing for a while. Forgetting to prioritize what I need to prioritize took so much energy for me, and those wasted energy and time will never come back.
What self loving action can I take now?
The Sun, in reverse: A child riding a horse with four flowers on its chest, and the sun was shining brightly, with it rays filling top of the card. 
This none than other, the card of clarity and asking us to be honest with what we need the most right now: a break. The Sun isn't associated with any sign, it is a positive reminder that our mind, our body, our soul is demanding to stop what we are doing and live in the moment. Reflecting what is happening around us, rather than ignoring the signs is very important. Don't forget to breathe, and breathe.
What I've learned from this spread is to ground myself. I've been soaring high enough for sometimes now, and it's time to land back to reality. It's time to come back to Earth, and rest.