Yesterday I spent a good time as a panel, speaking on mental health, stereotypes and labels. Three years ago, I would never find myself able to speak on mental illness and how it takes toll on me, but here I am, sharing my stories. I don't want people to feel that they are ever alone.
While waiting for the session, I picked up my deck and worked on a challenging times spread.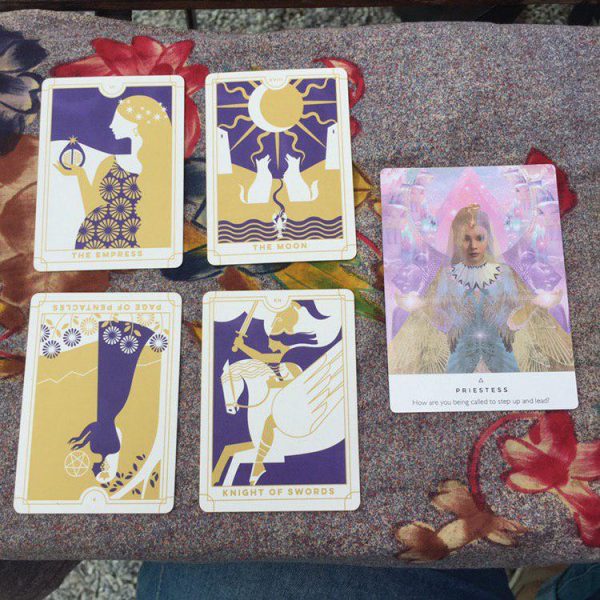 What lesson did yesterday bring?
The Empress answered that everything is under control. That the power to continue to step up and keep on fighting lies inside you. That you are always guided. A lot of us are scared of things that haven't happened yet, simply because there are a big possibilities waiting for us and we are not ready to face it. We are in denial of what is going to happen, and that stresses us out. But life is a wild ride. It will always be a big turn, and that's the scariest part. But how do we know if we didn't want to face it?
How can I best integrate those lesson?
The Moon asked us to believe that there's always light in darkness. There is always hope, and there is always chance to change things even after they happens. The power lies within us. The power belongs to us. Every decision that we make, every step that we take, it happens for a reason, and those reasons are why we keep on marching. We continue living because we deserve the life we make.
What lesson will today bring?
Page of Pentacles reinforces to believe in yourself. Believe that you are the agent of change. Believe that you can change the world you live. I know this is hard to do, it even seems comical and aspirational, but real changes happen when you take that leap. When you decide that it is time to believe.
How can I find joy as I move through the lessons?
Knight of Swords is all about taking charge. Be in charge of your own bullshit. Be in charge of your own future. Be in charge, get organized, be in control. You shall feel much better because you know, you are responsible for your own self.
.
The Priestess is sending message on how do I step up and lead. But why am I stepping up and who am I leading, is no question. It's myself. I'm doing this for me. I'm not doing this for other people. I'm not a people pleaser.
Welcome to the stone-cold-hearted season, Capricorn.