I'm finally ready to settle down this year and looking forward to a new decade. This year have seen the most growth and bounces for me, and for this I thank the Universe for always getting my back. This journey has been a sobering one.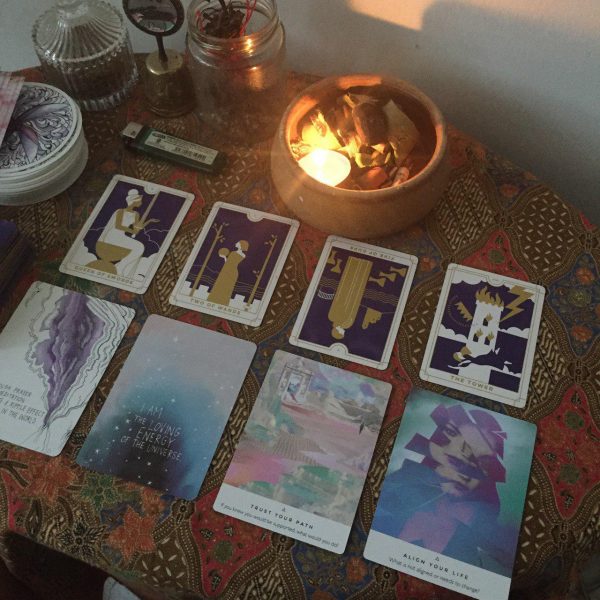 I used my eldest deck, a gift from Shahir. This is Everyday Tarot by Biddy and it always resonates with what I feel. We've been through a lot of journey together, and it's only fair to do this year unwrapped together.
I've been moving independently this year (Queen of Swords). I landed into *so-called dream* job in a feminist organisation which then despised my work and activism. I guess there is still unsettled feelings for this conflict that I'm having, because I've lost a lot in this dispute. I worked my freelance life, and paved it until I found a new full-time job, which then again, broke me into pieces (The Tower).
I believe there is more to this, as I found new ways, friends, and passion. Tarot is one of them. I went into spiritual journey, reconnected with my ancestors and understand that this is just the beginning (Two of Wands). In order to gain something, I've a lot of things, ways, friends, and passion too (Five of Cups).
I've worked with the Message from Universe deck and Work Your Light Deck for this oracle spread. Both again remind me to find the right path and re-aligning what is needed. I believe there is more to explore next year, and I am ready to go through that portal with high velocity and intensity.